Continuing the success of the A200, the AirPulse A300 is a pair of bigger active bookshelf speakers that we elaborately designed to meet the expectations from us for high quality sound reproduction. The A300 has elegant retro aesthetics, combined with Phil Jones signature sound similar to what can be heard from our Reference 7001 flagship monitors.
It inherits the look of its smaller brother the A200; but is equipped with a larger cabinet, larger woofers and an XMOS CORE so that is has ample energy to fill a roomier living space. Its outstanding performance not only offers more low frequencies, but also overall higher quality musicality with minimum signal loss from simple to operate and hassle-free system. The A300 uses an AirPulse unique horn loaded ribbon tweeter, proprietary 6.5-inch low distortion mid and low frequency driver, 25mm thick high-strength MDF cabinet finished with solid wood veneer and quality furniture paint. Inside is a high efficiency Class D amplifier with DSP based signal processing system, powered by an also high efficiency switch mode power supply.
The system has multiple input selections, i.e. professional balanced input, optical and coaxial. The USB interface of the system is based on XMOS XU216 chipset, which boasts up to 2000MIPS computing horse power. The Bluetooth audio receiver of the system is built with a chipset from CSR and supports Apt-X decoder. With frequency range extended up to 40KHz, the system meets the requirement set by JAS as to bear the HI-RES Audio logo. To minimize signal loss, US made "TRANSPARENT" brand name cables are used for internal wire connections, expressing the pursuit of high quality representation of our design team.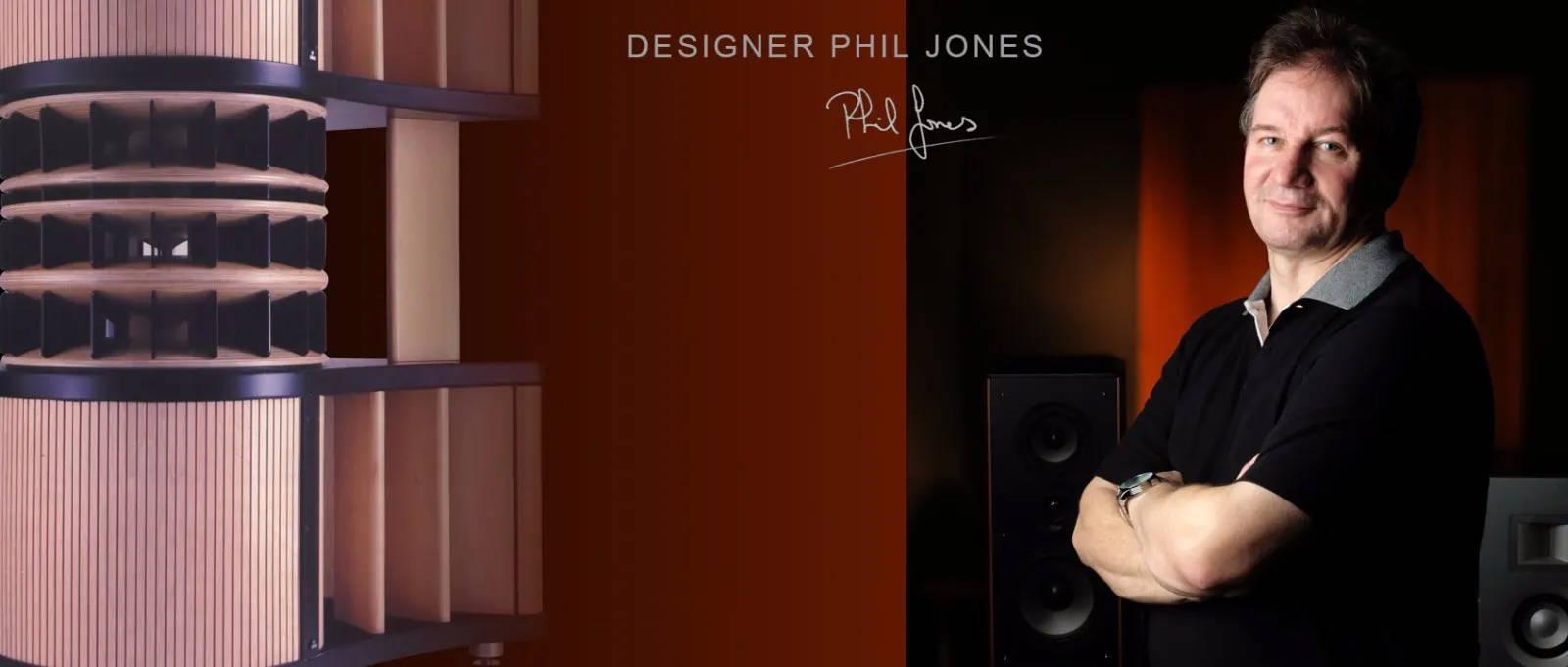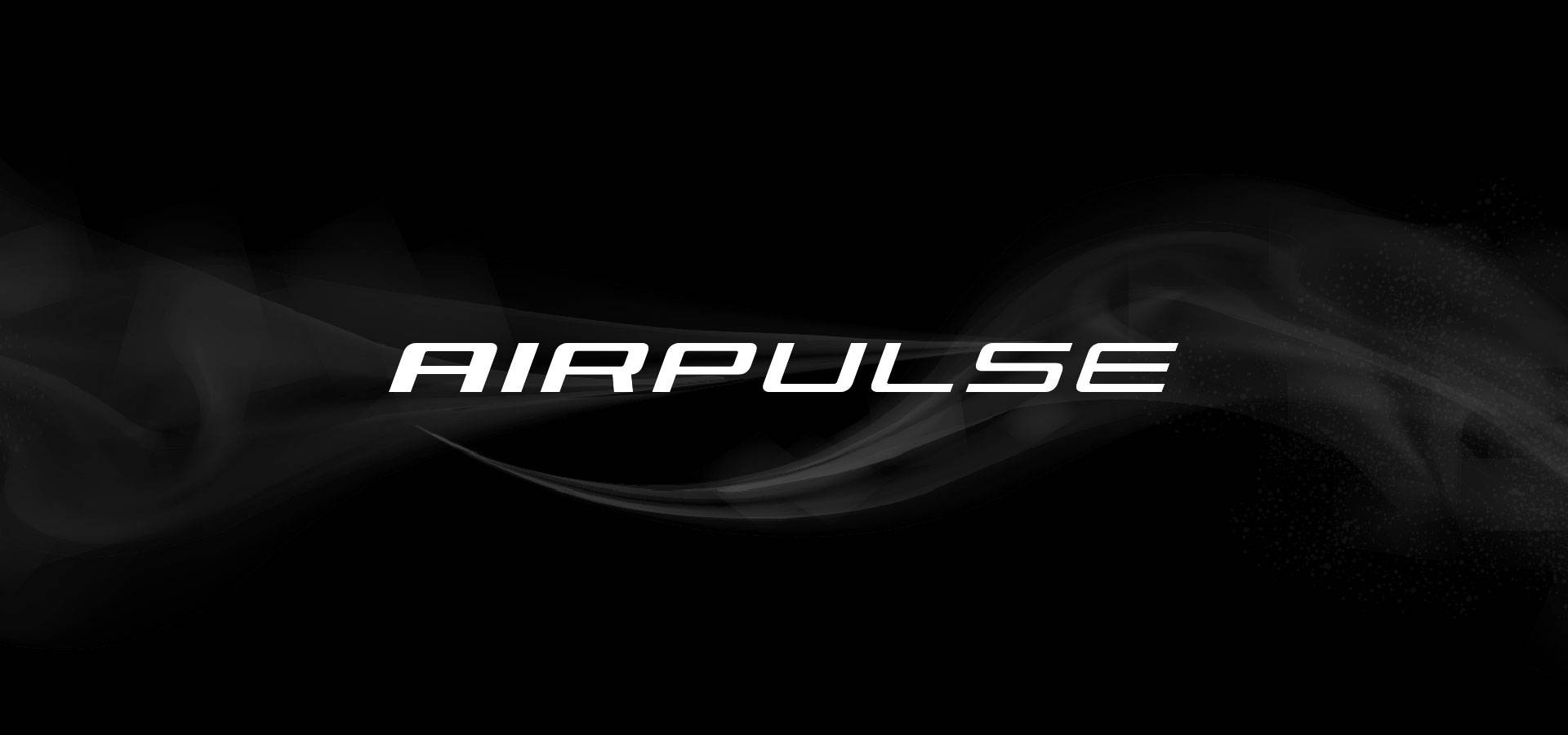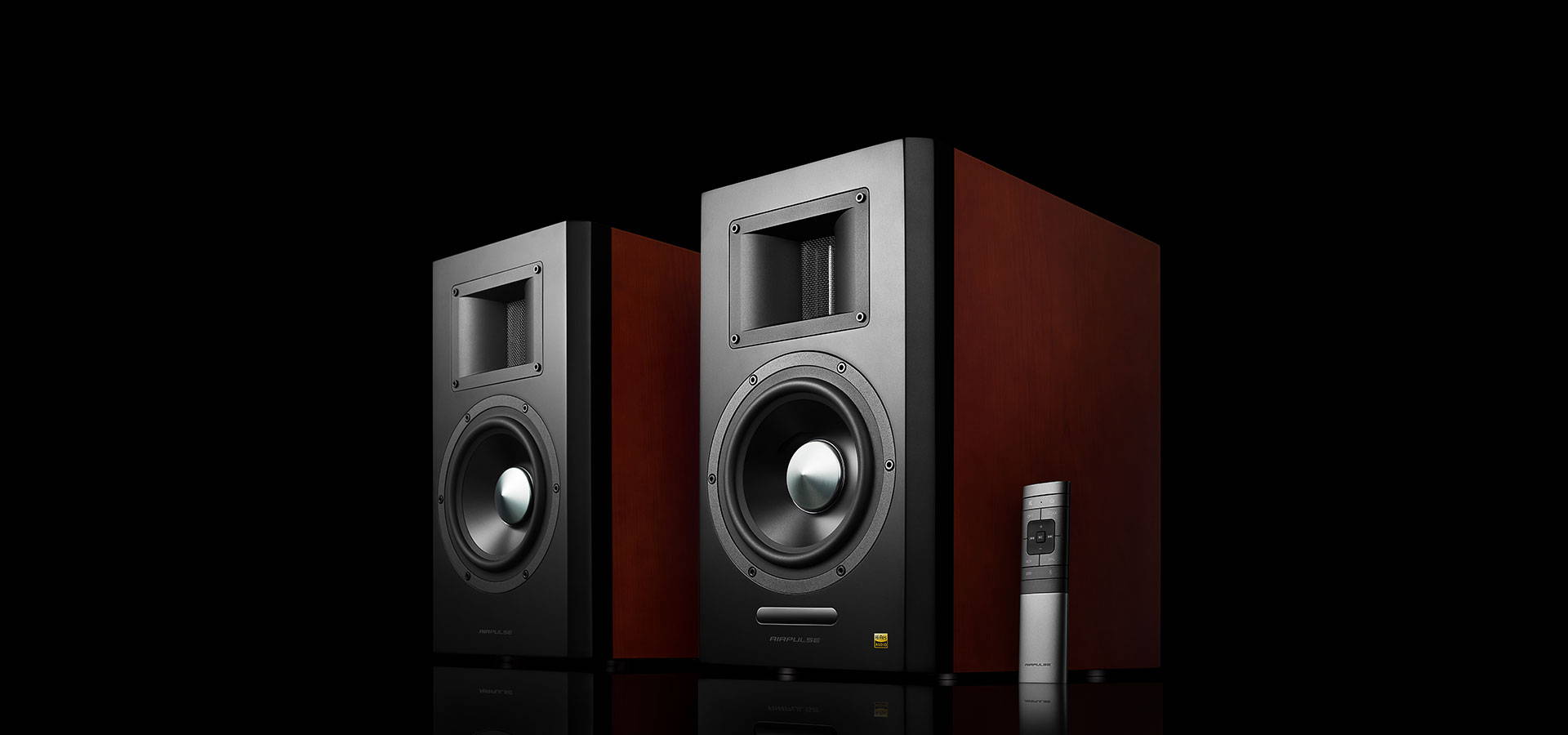 Active Bookshelf Speaker - Hi-Res Audio Certified
The A300 speakers combine the quality of a reference monitor and retro wood styling into an active bookshelf speaker. Simplicity married to quality is our motto with AirPulse. Connect the speakers to each other with the connecting cable and connect the speakero your audio source directly with included cables. These speakers are sold in pairs out of the box and includes a remote.
65MM ALUMININiUM ALLOY CONE MID RANGE WOOFER
The A300 uses a thin aluminium horn loaded ribbon tweeter which extends frequency range and a well-defined resolution reaching to 40KHz high frequencies. The horn shape adds to a three-dimensional sound as the ribbon tweeter is aimed at the listener and minimizes unwanted effects from room reflection. 6.5-Inch Aluminium Mid-WooferThe A300 active bookshelf speaker is equipped with a 6.5-inch aluminium alloy cone mid-range woofer unit. Each magnet has a 50mm diameter edge-wound copper clad aluminium ribbon voice coil for maximum linear excursion and control.ST300 StandsElevate your experience with the ST300 speaker stands from AirPulse. Made exclusively with the A300 active bookshelf speakers in mind.
Horn Loaded Ribbon Tweeter
The A300 horn loaded ribbon tweeter inherits the mechanism of the tweeter in our flagship 7001 near field monitor. The thin aluminium ribbon diaphragm has high sensitivity, superb transient response, extended frequency range and well defined resolution. A 65mm length and 0.12mm thick aluminium ribbon placed between the two large neodymium magnets. Electric current feeds through the ribbon so that it functions like a coil in a conventional loudspeaker. At the same time, the ribbon also acts as a diaphragm as it moves air. The combination of these two functions give the ribbon tweeter high efficiency and great transient response without delay.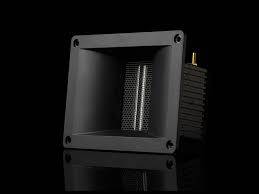 AirPulse's A300 is designed by Phil Jones. The technical and aesthetic designs are combined to create a next generation of audio. The cabinets are made from 25mm MDF and finished with a cherry wood veneer finished in satin lacquer. The cabinet is lined with a 36mm professional-grade sound absorption material reducing unwanted resonance.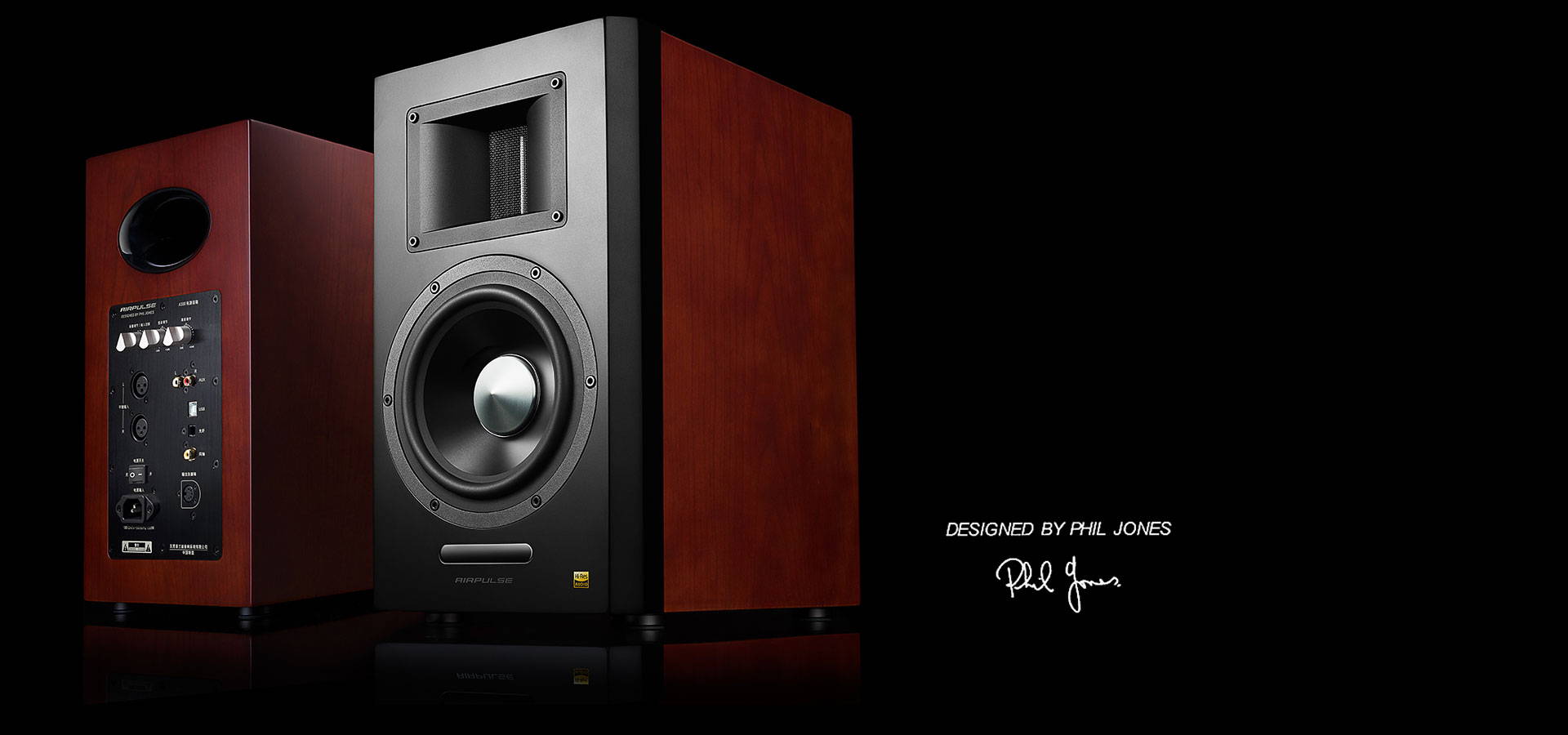 Built-in Amplifier and
Receiver Components
The built-in amplifier uses 3 parts of the TAS5754 Class-D amplifier chipset from Texas Instrument. Two chips are bridged in parallel driving the left and right woofers. Meanwhile, the third chip is set in bridge mode for both tweeters.
The SPDIF receiver uses a PCM 9211 from Texas Instrument that supports up to 216KHz input with a low output audio signal delivered to the XMOS processor with zero loss. The USB audio interface supports UAC2 audio with input sample rate of 192KHz avoiding signal degradation and dynamic range loss via the PC audio DAC.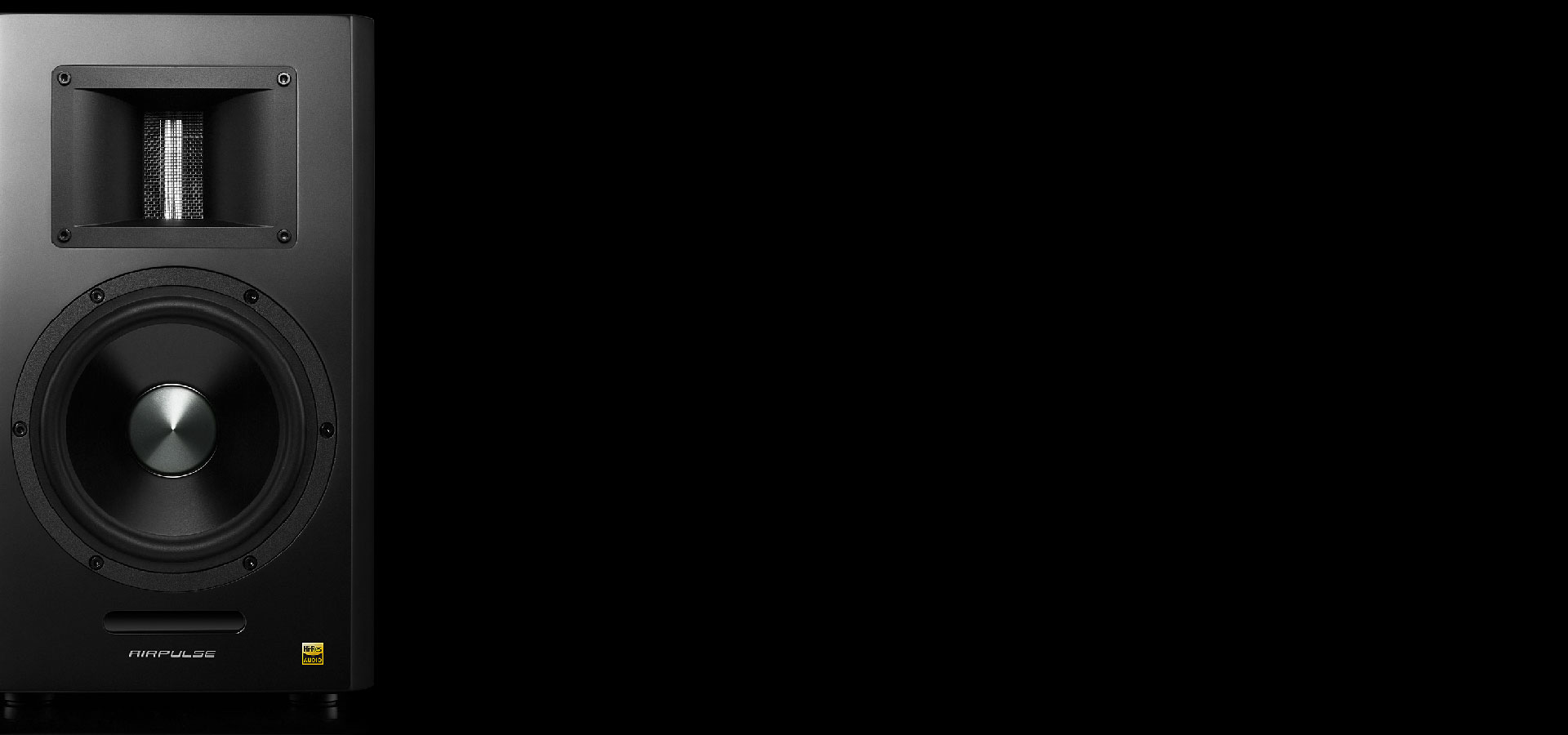 Connectyour phone, laptop, computer and other
devices with the following inputs. AUX,RCA, optical,
coaxial, USB, professional balanced input, and Bluetooth.
TheBluetooth input uses version 4.1 and has support for
aptX codec. Bass, trebleand volume controls are located
on the back panel.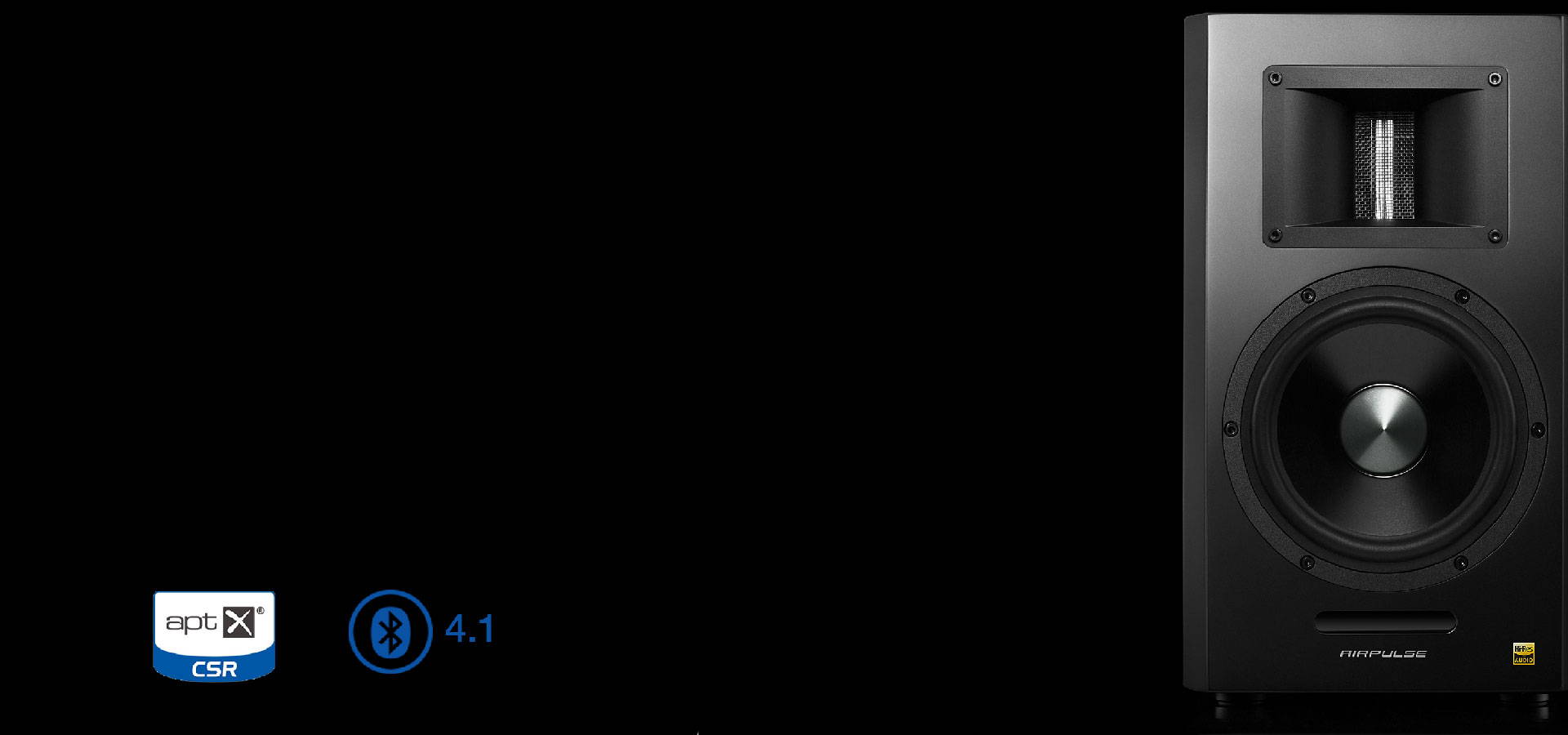 Horn Loaded Ribbon Tweeter

Digtal Amplifer With Xmos Processor

SIGNAL-TO-NOISE RATIO (SNR)
AUX, Balance Input, USB, Optical, Coaxial, Bluetooth.
6.5inch Aluminium Cone Underhung Design Neo. Power Mid-Woofer
L/R(Treble):10W+10W, L/R(Woofer): 70W+70W
AUX:700±50mV Balance:1150±50mV, USB:550±50mFFs, Optical:500±50mFFs Coaxial:500±50mFFs